Oh, my babies – is life popping you in the kisser?!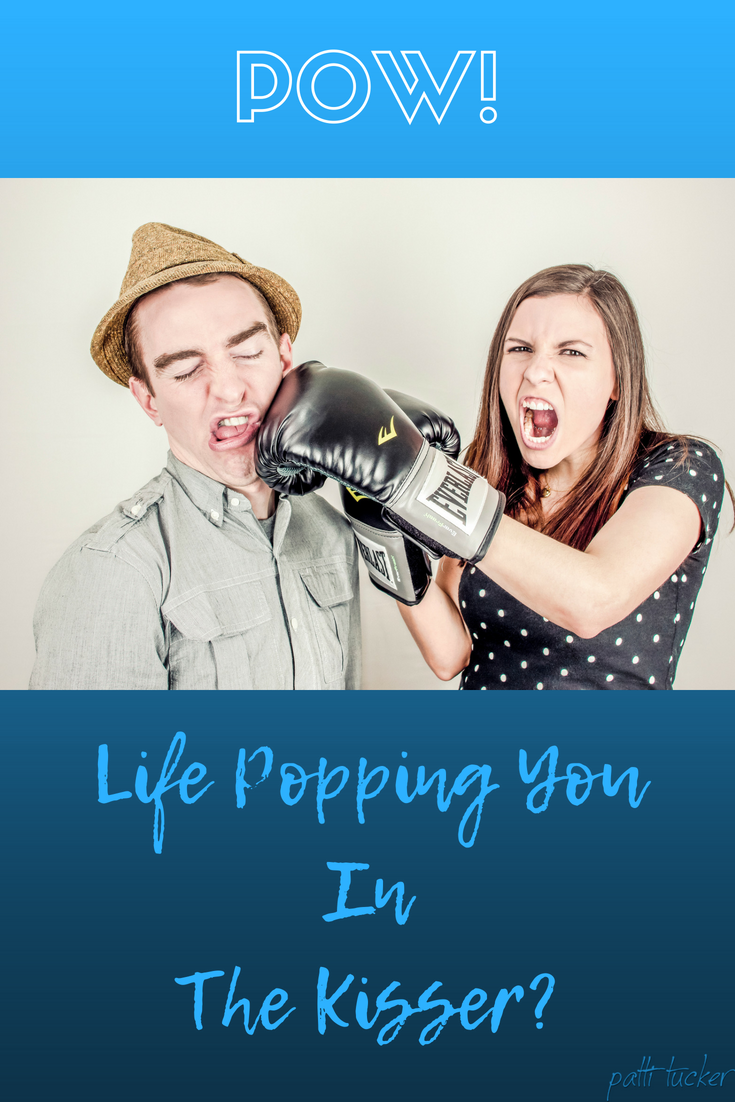 We've all been there.
Matter of fact, I'm there RIGHT NOW.
BOOOOO.
Here's the thing (there's always a thing): you either keep getting popped OR you fight back.
As I sit here, at my keyboard typing, all I can think about is how nice it would be to stop for the day and sit outside in the extreme Texas heat, enjoying an ice cold Shiner.
For the uninitiated: Shiner is a Texas beer that, well, can cure what ails ya (screw the puny voodoo power of Vick's VapoRub!).
But, here I sit, inside, at my desk.
W-H-Y?
Why not give myself a day? Why not have the grace to say: Woman, you deserve a break – you neeeed a break. Take it.
~snort~
As if there's a day I don't deserve a break – neeeed a break.
And my guess is life is popping you in the kisser, too. My guess is you deserve a break – neeeed a break, too.
Shouldn't we ALL go outside and drink ourselves into a congratulatory self-love (God, I hate that term) cocoon of muted expectations?
~pretendBULLSHITsneeze~
NO.
That is exactly what you should not do.
Fuck. That. Voice.
I mean it. If you stop because you are tired or the voice is sweet-talking you into lazy nonsense, things are gonna get worse, and there ain't no self-love in that.
You'll fall behind. You'll feel like a failure for giving in. You'll heap more hot dirty coals upon the black mood that already is.
DON'T DO IT.
Instead, sit your ass down (or stand) and tackle your shit.
Work.
Move forward.
Do whatever it is that needs to get done.
When you're done?
Get that beer, or Scotch, or ice cream and celebrate the fact that while life was having a go at you, you hit back with action.
Celebrate the fact that your will was stronger than the punch to your kisser.
I'm here, ass in chair, feeling like a loser today.
Give me an L! Give me an O! Giver me a S! Give me an E! Give me a R!
What does it spell?
~big squealy pom pom finish here~
PATTI!
I know if I let the feelings wash over me, if I listen to the soothing voice that keeps insisting that I stop, that if I decide to give in, I'll feel 100% worse and my recovery from this lie of being a loser or that I suck, will take longer.
Instead, I'm fighting back.
This is how I did it today:
Life Popped Me in the Kisser Me:  WAAAAAA! I suck. I should call it a day. *whimper and sad eyes here*
In Your Dreams Me: Nope. Not gonna happen, bitch (yep, I actually trash talk meself like that – you should hear me on a run).
Life Popped Me in the Kisser Me: But, even if I try to accomplish the unaccomplishable, the results will suck. Cause, as noted and spelled out, I'm a loser.
Doesn't Take Shit Me: Tough noogies, woman. Get a cold drink. Get your ass in the chair. START.
Life Popped Me in the Kisser Me:  Fine. But, it's not gonna be good. I just want to sit outside with a beer and *think* about how I should proceed, cause you know, planning is important for forward motion. How can I start when I don't have a plan? I even have a new journal somewhere. Maybe I should look for that first. Oh! I also bought new colored pens. That way, I can organize my thoughts by color. Once I've contemplated where I should go and how I should get there – THEN! – then, I can work.
Don't Make Me Come Down There Me: OMG, woman. Shut up and START.
So, I did.
Now, I'm not saying you have to be so, um, bitchy, with yourself, but any tough love variation will work.
The absolute key is you must START.
Period.
No negotiating.
I've lived life long enough to know that to overcome the hard stuff, you need action, not rest.
Rest AFTER you've overcome the pop to the kisser.
You'll be happier. There will be less suffering. And the ice-cold beer (your carrot here) will taste like victory.
Life can get bent.
I've never met a punch to the kisser that couldn't be overcome (and i've seen things – ♫ ominous music here ♫ ).
Go.
Start.
Finish.
Beer.
My life's secrets are easy and effective.
Gotta go.
That Shiner ain't gonna drink itself.
Interested in building your OWN WordPress site? CLICK HERE