HAPPY NEW YEAR!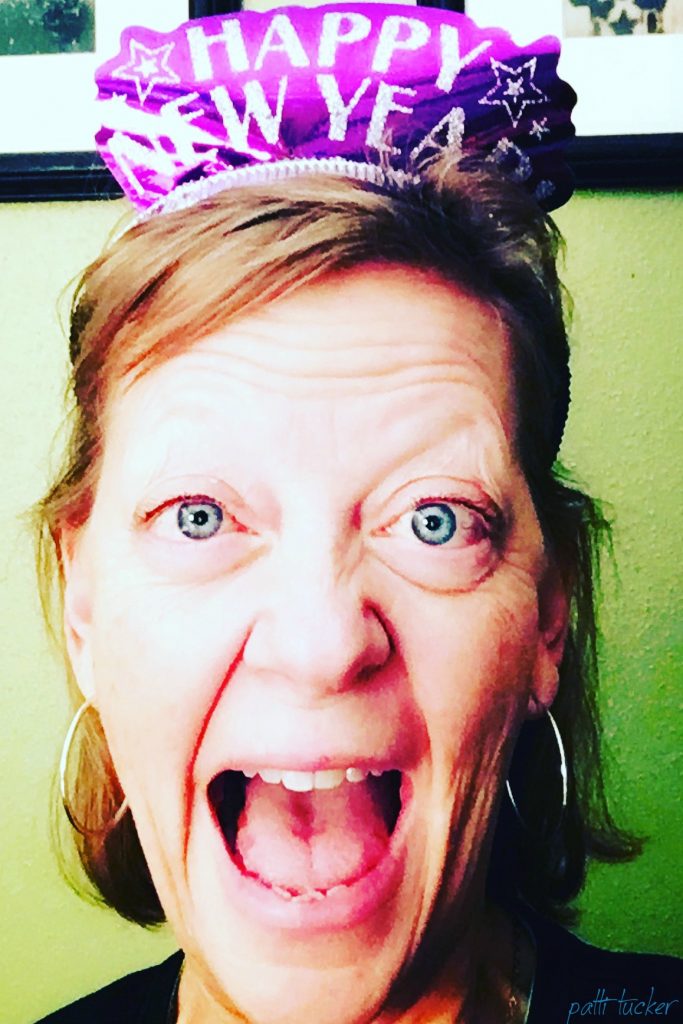 Told ya.
Happy!
This year, this day, this moment – something is happening to me (I'm betting you can relate), something is insisting I change course in my business.
It didn't happen at the strike of midnight on New Year's Eve, as so many watched the old slide away and the new slip in (so many "that's what she said jokes" here, yet I WILL remain focused).
Nope, it's been a process, a churning, a purposeful plotting and planning, even as I continued to grow what I knew I might leave behind.
We've all been there, right?
You start down a path, excited as hell…then, WHAT'S THAT?! THAT is amazing.  I wanna go THERE!
~attention and thought diverted~
Little over a year ago, I embarked on a new journey. I decided that my writing would take a new path. I decided that I would be a copywriter.
It fit me. Writing is in my blood. I've been at it a very long time, but never through copywriting.
I decided a thing – I took classes – I studied – I worked – I had success.
I'm that person. I set my sights on something – work like a focused ninja – achieve the stated and desired goal.
I realized that while I'm kinda a badass writing (editing/cheerleading/focusing/creating) for others, the pinging in my head was continually pointing me to more.
You've been there too. You do the thing that's paying to keep the lights on, but there's more tapping you on the shoulder, I can see it!
Now what?
Indeed. Now what?
Pop culture tells you to "jump and the net will appear."
I would add you must construct the net as best you can, first.
Before I jumped, I asked myself these hard questions (and talked to trusted confidants) over the course of a few months (I recommend you do the same):
Am I ready to go after new goals?
Yes. The answer is always yes, for me.
If it's not for you, that's okay. Be brutally honest with yourself in this process. A "no" now can morph into a "yes" later.
Patience of preparation can mean the difference between success and failure.
Listen to the one you know best: YOU!
Am I prepared to let go of the momentum I've been building?
This one was tougher, gave me bad dreams and fits of "what the hell are you thinking, woman?"
Why?
You know why – it meant momentarily taking a hit in the pocketbook.
Money doesn't drive me, but, baby, it makes a fine co-pilot on any trip.  Who gots the gas money?
Am I setting myself up for failure?
BWHAHAHAHAHA. Yes.
Anytime you risk chasing a new goal, leaving the comfort of what you know behind, failure is ready to jump out screaming from behind a door to make you *almost* poop yourself.
Prepare thyself for failure, my babies.
Am I ready to rebuild, knowing it's more time and more effort?
This one makes me tired, yet the old "where will you be in a year if you don't" quote comes to mind.
Am I committed to learning more thangs and enduring head-banging frustration?
As a gal who isn't afraid of computer code like she used to be, because I was forced to learn in the last year – I know I have it in me to meet the challenges I face.
When (not if) I have a bad day, I'll eat some cake, go for a run and have a swig o'whiskey, then get back to it. (you can totally use this method as your swipe file!)
Can I fucking do this…again?
Yep. Totally. With enthusiasm.
SPOILER ALERT!: SO CAN YOU!
Building dreams, building a sustainable business, is some of the hardest work I know (other than parenting – hooboy – holy work, right there).
Do not listen to those who tell you it can and will happen overnight. My bet is the overnighters had years of building experience and suffering through failures before they finally hit upon what works for them.
Hard work. That's what you're in for. Are you ready?
I can't hear you…ARE YOU READY?!
There ya go.
In the days that come, I will be sharing my bug-eyed delights and my faceplants. I'll encourage you to do the same.
The last yearish was not a wash nor a waste. I learned an incredible amount that will serve me as I build anew.
As I stated above, I discussed my angst and frustrations with folks I trust. I haven't come to decisions lightly, and neither should you.
If you are struggling or fearful and don't have a trusted ear – consider following my facebook page, or leave comments here. Let's build a community where we can lift one another in detail-driven truth and action, as we ALL move towards what lights us on fire (but not real fire, cause, well, owww).
If you are contemplating your "Now What?" right now, I offer you a HELL YAAASSS! Think it through, then act.
My change simply coincided with the New Year; yours can start today.
May we all be blessed with a year filled with peace (of choices) and prosperity (ever'one loves a co-pilot with gas money).
Let me know your thoughts below!
Interested in building your OWN WordPress site? CLICK HERE