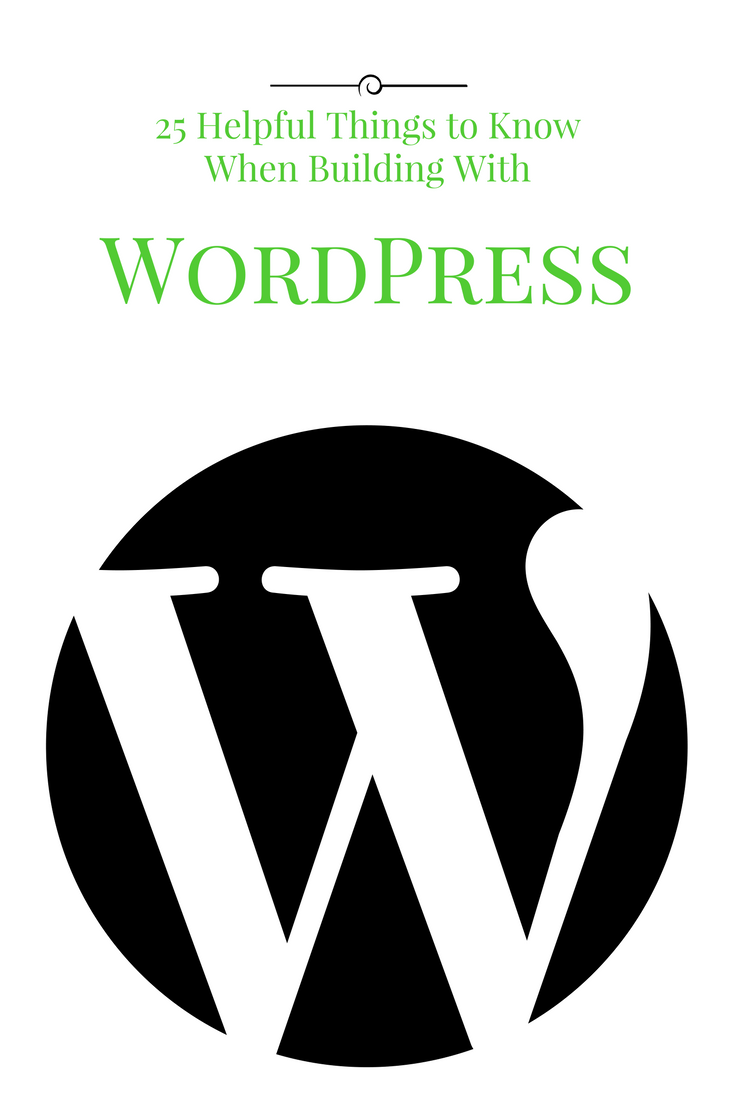 Hey there, WordPress builder o'dreams!
I'm Patti and I'm thrilled you're here, especially if you're new to building with WordPress.
If you want to build a website that is EXTREMELY customizable, EASILY changed without knowing how to code, and is able to handle growth, you should BUILD with WordPress.
25 Helpful Things to Know When Building with WordPress – with 5 BONUS Worksheets

This PDF is meant for you.
No more pounding your head against your desk. No more side-eyeing bad information. No more scrounging for extra bills to pay a designer for what you can do yourself.
Yep. You. You've got this.
~~~~~
You probably think that unless you're an experienced website designer/builder, WordPress is best left to the professionals.
Not anymore.
I was once where you are: I needed a WordPress website, had little money to pay a designer, but knew I could learn.
Keep your money in your pocket, expand your mad building skills and get started on your site (or build for others) today.
Yep, as in right now.
Once you two get acquainted, WordPress will be the Walt Disney World of places to build your website(s).
Magical.
~~~~~
Why do you need a quick-start guide for WordPress when you can just as easily (HINT: just not as quickly) build a WordPress site on your own?
One sentence: It's easy-to-follow and understand.
Expand your skills – Conquer your fear – Build a beautiful and functional WordPress website, even – especially – if you've never built one before.
I've included topics to get you started, such as choosing domain names, installation, framework, themes, initial settings and set-up, to analytics, initial content and upkeep, with bonus Pro Tips thrown in.
You need a website up and running…like yesterday.
PURCHASE NOW
But – you don't have a dump truck full of gold to pay an experienced designer.
And – you wonder if you can handle this looming task yourself because you're new to this sort of thing, this WordPress website building thing.
~ You've heard it's complicated (it doesn't have to be).
~ You've heard you need to know code (you don't).
~ You've heard you should hire an experienced designer if you want it to be beautiful and functional (nope. you CAN do this yourself).
You've heard all the scary stuff, you've hesitated in fear, you've pushed the idea aside too many times:
I'm a new designer – learning WordPress means taking a class I can't afford.
I'm a freelancer – WordPress is too complicated for my own site.
Nope and Nope.
I have an easy solution to your frustrations.
You need an easy-to-understand – and execute – PDF that will get you there.
You know you need a solid plan with doable objectives – you know you can learn what needs to be done.
Still…
~ You're scared to do it yourself. It's okay to be scared. (I was scared the first time I did it, too. Key Word: DID)
~ You're scared you'll mess it up. You won't. (Fine. You might. But so what, after this tutorial you'll have the confidence to fix it.)

~ You're scared you don't know how. Yet. (Once upon a time, you didn't know how to use a fork and knife either. I'm guessing you're pretty good at that now.)

~ You're scared you can't DIY (Do It Yourself). You can. (I speak from experience. I thought the same thing once, but then I built a site. Then another. Then another. See the pattern here?)

Even worse than being scared? Every day that you or your client doesn't have practical website up, ready to meet and greet the world with its awesome sauce, means you're losing sales and hiding your genius from potential clients.
You need to stop that.
You're Afraid You Can't – I KNOW You Can
Here's why…
…because if I did it, so can you.
Yep, I was once a WordPress newbie. I had no idea what I was doing, so I did what most people do: I Googled the heck out of my problem and was instantly met with a roiling sea of solutions.

Google was suddenly my closest ally – we shared hours and hours together, as I searched for answers.
Yet, the unending hours translated into frustration and anxiety, because trying to find the information to make sure I got it right, was excruciating.
There had to be an easier way for a newbie to build a WordPress site.
I never found it – that easier way.
What else could I do, short of hiring an expensive designer, for which I had no money, except keep researching and building and gaining knowledge from my hits and misses.
After building my 3rd successful website, it occurred to me that I had curated enough hard-fought experience and knowledge to share with others.
Like YOU!
Save time and BUILD YOUR SKILLS with one simple, step-by-step, PDF
Time is our most precious commodity – Man, I hate wasting time.
You?
Simple, irrefutable, SCIENCE: We can't produce more time. Once we've spent it, once it's gone – it's gone.
Your needs are simple: how the heck do you build a WordPress website without having to glue your behind to a chair or rob a leprechaun of his tiny pot o'gold?
Instead of spending hours researching how to build a WordPress website from beginning to functional, like I did, DON'T.
Save Google for the fun stuff…like LOL cat videos.
Build a site, a great site, a beautiful and functional site, without using a single line of code.
You CAN, even if you're nervous.
Keep money in YOUR pocket, instead of an expensive designer's.
Learn enough to build for others (Whoa – Now YOU'RE the fancy-pants designer).
Feel like a WordPress building Boss. At least that's how I felt.
It's really that simple. Well, that simple if you have a 25 Helpful Things to Know When Building with WordPress – PDF
How THIS PDF Will Rock Your World
The Internet is FILLED with offers. Why buy this one?
Good question. I ask myself that very thing each and every time I decide to upgrade my skills (well, not exactly that question), and I applaud you for doing the same. Smart cookie, you.
Why buy this one?
One simple reason: The information is proven to work.
The 25 Helpful Things to Know When Building with WordPress – PDF walks you through information I've used each time I've built my own sites.
It's packed with insider WordPress tech knowledge. Never pointed a domain to hosting company? Never used WHOIS or installed a Genesis framework? This PDF will rock your world.
It's packed with insider WordPress designer knowledge. Never used a widget? Never used powerful plugins or designed a website's structure? This PDF will rock your world.
It's packed with insider WordPress traffic building knowledge. Never used SEO? Never hooked up a sitemap or made a site mobile friendly? This PDF will rock your world.
BONUS: Learn to Navigate the Dashboard Like a Dashboard Navigating Beast

New systems are simple, once you learn the secret handshake – HighFiveDownLowShakeyShakey.
I've got you covered.
Think of the WordPress dashboard as your new GPS Happy Place – It will get you where you want to go.
The dashboard is explored in the PDF.
You'll visit often to edit, change and customize your new WordPress site – You'll find everything for your site in one convenient location.
~ Want to write a post? Oh, hai. Click your dashboard. Easy peasy.
~ Need to check on comments? Check your dashboard. Reply from there.
~ Need to update plugins, change out themes, or create a landing page? Dashboard, dashboard, dashboard.
Don't Waste One More Day Without a WordPress Website

Let's review:
You don't have a WordPress site. (waa-waa)
You need a WordPress site, like yesterday.
You don't have a tiny pot o'gold. (no lucky charms for you)
You need a helpful PDF that covers all you need to get started.
You don't have a site-building ninja at the ready. (throwing stars are stabby)
You do have spectacular grey matter.
You don't want to have a researcher's numb bum. (no, we will not rub that for you)
You have a valid credit card.
Say YES! to the PDF

Sure, it's not as catchy as Say Yes! to the Dress!, but when something fits like it was made for you – GRAB IT!
The time for action is NOW. You shouldn't waste one more day floundering and futzing with your WordPress site.
Take out your credit card, click the button and change your future, today – like a boss (do people still say that?).
Go. Buy. Build.