~ A gentle reminder: referral links ahead.~
What the heckio is 17hats and what will it do for you?
Plenty.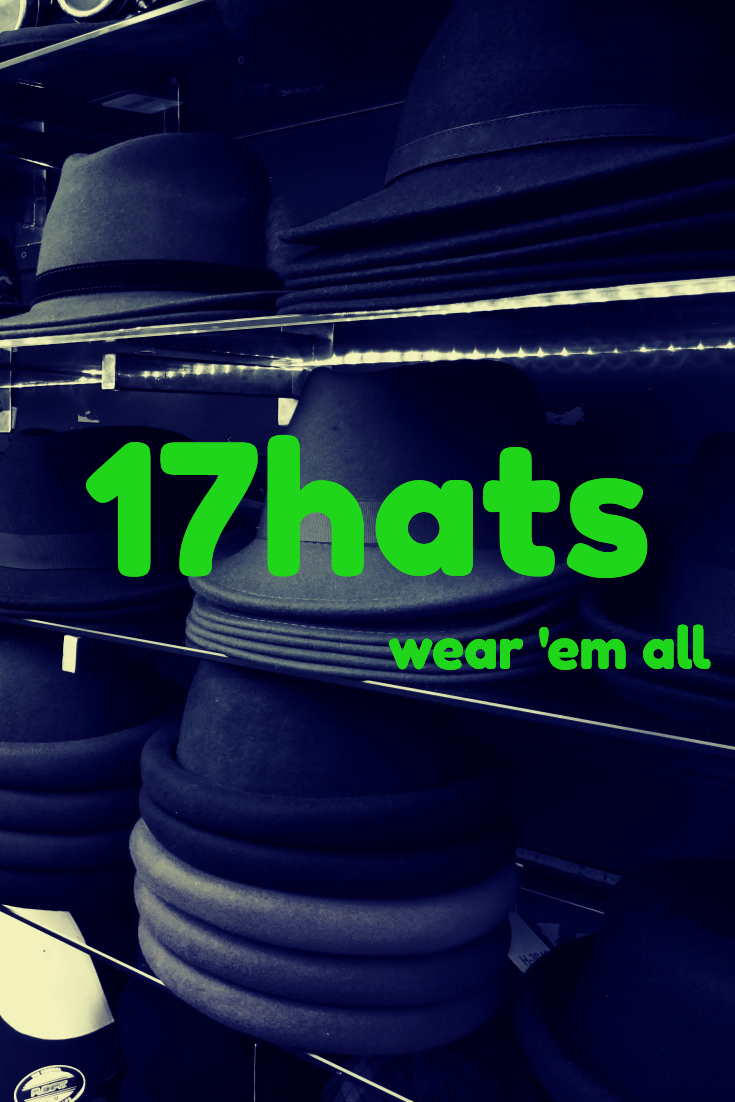 #1: It's fun – 17hats! So. Many. Hats. (you wear 'em all as an entrepreneur, right?)
#2: It's a site that keeps track of your business stuff, yo!
I'm a writer and as such I use contracts and calendars and a payment system to keep the business end of my fun in order.
The big question when I started was could I find one place to organize my needy needs?
Yes!
17hats does it all (or integrates if it doesn't).
A common problem when one runs a business is that one (YOU!) thinks that having all your stuff in one place is swell, but it's a task that one (YOU!) is more likely to put off, because, well, it's boring as hell.
TRUTH.
I have run several businesses that were fly-by-the-seat-of-my-pants, but I knew when I started this one, I wanted to be organized from the beginning.
The Deets:
~ Contracts (that can be edited to specific needs) can be signed online – no faxing needed
~ Contacts are a click away
~ Google calendar can be connected
~ Accounting with QuickBooks can be integrated and then ready for your accountant
~ Email templates can be created and stored
~ Lead capture forms (like the one on this site!) are available
~ Project organization and work cycle info avail
~ Invoicing and online payments (mine is hooked-up to Stripe) made simple
~ Time-tracking for projects and easy to-do lists
17hats has saved my behind numerous times since I've signed up – it's a powerhouse that makes me look good for reasonable price.
My three favs:
#1: Contracts are easily available/customizable.
#2: Quick invoicing.
#3: Easy-for-the-client online payments.
My three mehs:
#1: There's a learning curve to use it to its full potential (but obv worth it) and I know new stuff is hard.
#2: Customizing forms can be confusing, but there are tutorials and good ol' YouTube videos.
#3: They aren't the oldest organizational tool in the shed, which means there's room for improvement in features.
Given my highs and lows, I can still heartily and happily recommend 17hats.
If you haven't already clicked on any of the linkage yet – DO IT NOW!
Let me know your thoughts and share this with an entrepreneur you love!
Interested in building your OWN WordPress site? CLICK HERE