You know the drill.
You want to build a website – you ask around for the best website hosting recommendations that will be worth your money – you get BLASTED with blistering opinions about every hosting company on the Interwebs.
Been there. Done that.
How the heck do you make a decision?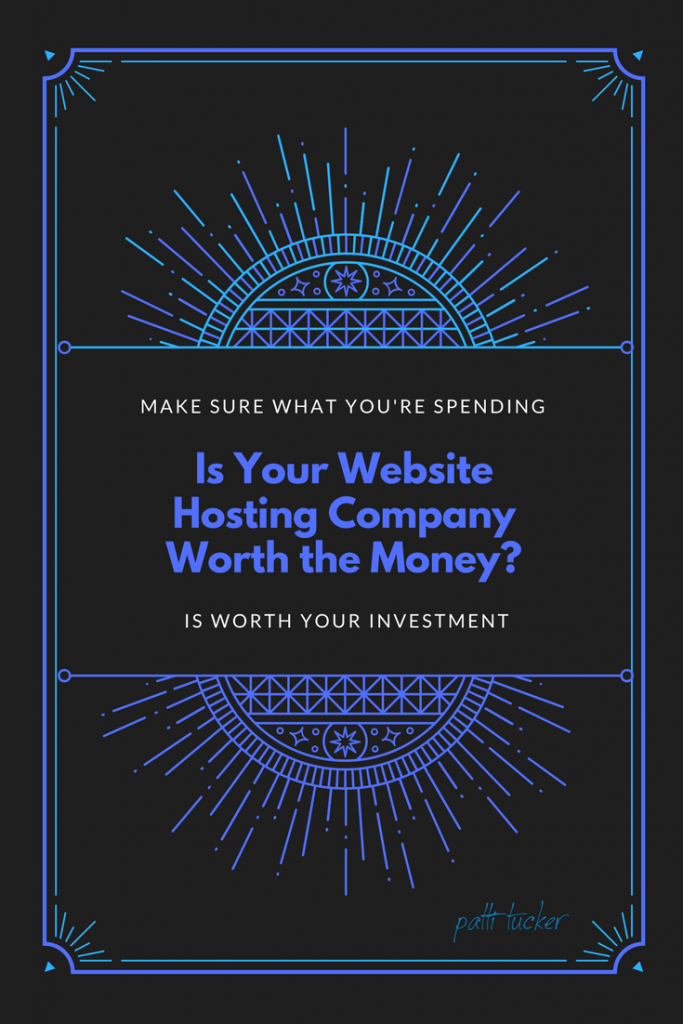 Start with research or a trusted friend's experience. (Hey! That's me!)
Before we begin, business first: The Siteground link is an affiliate link. Why? Because, I love them. Love. Them.
Is Your Website Hosting Company Worth The Money?

As you read through the reviews, ask yourself if your website company is meeting your needs. Think about downtime, page-loading speed, security, ease of customer support and cost.
I've been hosting websites for years and have lots of experience with a few hosting companies.
The very first hosting company I used was Go-Daddy and while I know many folks complain about them, I honestly have never had a bad experience with them in all the years I've used them.
Based on my experience, I can safely recommend them, especially if you are just starting out and trying to maintain a tight budget.
Go-Daddy
Pros:
~ Inexpensive
~ Easy to set-up
~ 24/7 helpful helpline
~ Little downtime experienced
Cons:
~ Add-ons (like a SSL cert) can be more expensive than other hosting companies.
~ Renewal navigation has a hard upsell process that is easily navigated, but annoying.
~ Account Menu can be a bit confusing.
Worth The Money?
Yes.
Overall, Go-Daddy made my life easy with every call I made to them.
Once, they actually went above and beyond when my site went down and helped me to restore that badboy within an hour.
When I changed hosting companies, they couldn't have been more professional in helping me switch info that needed to be changed.
So, why did I leave?
Unnecessary expense.
I needed an SSL cert for a site and didn't want to spend what they were asking, when I could get it included with my hosting through my current company, SiteGround.
We all have our lines in the sand, right?
Pros:
~ Incredibly helpful customer support
~ Highly responsive chat box communications
~ 3 Affordable Monthly Plans (with SSL cert included)
~ Easy to use and navigate
~ Best website hosting support for newbs or experts
~ Incredibly loyal users that sing praises (always a good sign)
~ Discounts galore
~ Amazing affiliate program
Cons:
~ So far…none…not one.
Worth the Money?
Yes. Absolutely 100% yes.
I think it's obvious why I upgraded. So. Much. YAS!
I am spending a bit more for my website hosting with SiteGround, but my site is growing and I needed to upgrade one way or another.
They made migration easy cheesy.  Mmmm, cheese.
I had heard/read so much awesome sauce from people who were using SiteGround that I included it on my list to research. They went from the long list, to the short list, to the top of the list, and the rest is history.
SiteGround has handled every issue I've had (the only issues were in the transfer and they were minor). They made transferring my site less stressful and over-delivered when doing so.
Here's some glorious affiliate linkage!
Next up is a WordPress hosting company called Synthesis.
They don't have an affiliate program, but if they did, I'd be all over it, because they're my absolute favorite hosting company.
Synthesis
Pros:
~ Super fast page load speeds
~ Rock-solid security
~ Content and web optimization
~ Keyword and social media research
~ Knowledgeable and fast WordPress hosting help
Cons:
~ Pricey
~ No helpline number. All communication through emails.
Worth The Money?
Yes.
Years ago, when I was building a new website with the idea that I wanted to make money through it, I planned ahead by using a hosting company I could grow into. I wanted large traffic numbers  to be a non-issue. (dream big or go home, right?)
In the beginning, I knew was overpaying for my website hosting, but as I grew (and was locked in to the original pricing), it turned out I had made a shrewd move.
Synthesis met all my requirements then and continues to this day.
Synthesis is serious hosting for serious WordPress users. They are all WordPress, all the time. They are the experts in the field.
There are tons of other website hosting companies and my bet is you probably use one not listed here, but in case you are thinking of changing, these three companies are solid choices in three different price ranges (dependent on your site goals).
Recap:
I loved Go-Daddy all the years I used them (still have domain names through them). They were always helpful and able to solve whatever issues I had.
When I switched my Go-Daddy account to a SiteGround account for one of my sites, I was nervous. The reviews for SiteGround were great, people seemed to love them, but would they work for me? What would be my experience?
Change is hard, yo!
Turns out I love them enough to marry them.
They were priced right and saved me money. Who doesn't LOVE that?
I haven't regretted my decision for one day. If you're looking for a company that is affordable and reliable and super helpful, SiteGround may be for you.
Lastly, my love for Synthesis continues. I took the plunge years ago and never looked back.
My biggest complaint with them is that I can't talk to the help desk. They manage all trouble tickets with email correspondence. As a newb, so many years ago, that scared the beegeebers outta me. Turns out, I shouldn't have worried.
Each trouble ticket has been handled swiftly and they've walked me through each blip effortlessly. These guys know what they're doing and they do it at a level that will blow your socks off.
BLOW 'EM OFF!
Now that I have more experience with site building, my issues are less, but knowing they are there, ready to catch me, makes me able to leap farther with less anxiety that I'm going to screw something up. But – if I do – they'll be there with the ointment and fix my boo-boo with care.
If you are searching for a new website hosting company, I hoped this post has helped.
Get to building!
Interested in building your OWN WordPress site? CLICK HERE