Jay!  You are officially a half marathoner!  WHOOP!  Welcome to the 13.1 club.  Dranks are on you!  I'll take one of Doc's home brews, thank-you very much.
On to the wrap-up:
* How did you feel the night before the race?  Jittery?  Thinking, "What was I thinking?"
The night before the race I was knot-twistingly nervous. Couldn't carb load like I wanted to…needed sleep aids…was terrified that I would sleep through my alarm. Yesterday morning I woke up pretty calm and ready…just jittery about the way the whole morning would turn out. I wish I had gotten up a little bit earlier…would have given the digestion a little bit more time to perform.
* How did you feel the morning of the race?  Prepared?  Thinking, "What was I thinking?"
The weather was gorgeous running-weather, but wretched waiting-around weather. There were 2800 registered participants, almost 1000 more than last year, so the staff had to deal with the logistical problems of parking everyone in time to get started and then running out of water before everyone had finished the race (finish line FAIL!).
We started 20 minutes late and the waiting around in 40 degrees was really difficult for all of us. Personally, I ran with six Aggies and one of them stuck with me all the way to the finish line. At one point there were six of us huddled, clown-style, into a tiny little car trying to get warm.
* During the race did you struggle?  Did you rely on previous runs to get you through this one?  Or was it a blurry joy?
Once the race finally started I used iMapMyRun to track our progress around the course and it was really helpful… at the beginning. I started out FAST – in retrospect, way too fast. We were running a full 30 seconds per mile faster than my usual happy place. My phone would talk to me around the end of every mile to report my speed and I was feeling fine, except that I had to use the bathroom SO BAD and had not had a chance even with the late race start. I was sooooclose to pulling off on the side of the road, but I guess the urgency kept us going till mile 7 or so, when we found port-a-potties with a miniscule line.
It was a really great race until about mile 11, when I was dehydrated and exhausted. Didn't have any pains the entire race except my toes, which started jamming into the end of my shoe with each step. Goodbye, sweet toenails. It was nice knowing ya.
Those last two miles were probably the hardest physical challenge I have ever faced. Eh, I've never given birth, so I suppose that's probably harder but this was HARD. I was utterly and completely out of gas. AND, my idiotic phone app had misjudged the distance and told me I had an extra mile to run so I was really mentally jacked around.
No runner's high the entire race. Couldn't get enough water down at the stops. If it hadn't been for my friend George I would have quit. And then with a half mile to go, all of a sudden I couldn't catch my breath and started hyperventilating and came really close to having a panic attack. George talked me through it and stayed with me all the way to the finish line. If he had not been there I would have walked the last mile and a half. George could have run that race at least 10 minutes faster than the time we posted – he's a pretty tough mudder. But he didn't. Yeah, you wish you were me with my awesome friends. I guess Aggies are all right after all.
* That medal!  Getting the medal is one of the best parts, right?  How did THAT feel?
Crossing the finish line was a blur because I was at the end of what I could do. There was no adrenaline rush or anything – I was BEAT. The medal gave me a little happy, but having my one familiar face in the crowd to cheer me to the finish line gave me an even more happy (yo, Dianna!). And then my dear hubby met me immediately after the race with BEER and DONUTS. Medal, shmedal. I had snacks and the ultimate in rehydration.
GREATEST.HUSBAND.EVER.
* What's next?
Next in my immediate future and bucket list? I want to do a pull-up. I want to continue to run about 15 miles a week, but as it gets hotter I may substitute some bike riding. And I look forward to some yoga. And I want to learn Spanish.
Jay after the race, with her medal and cohorts!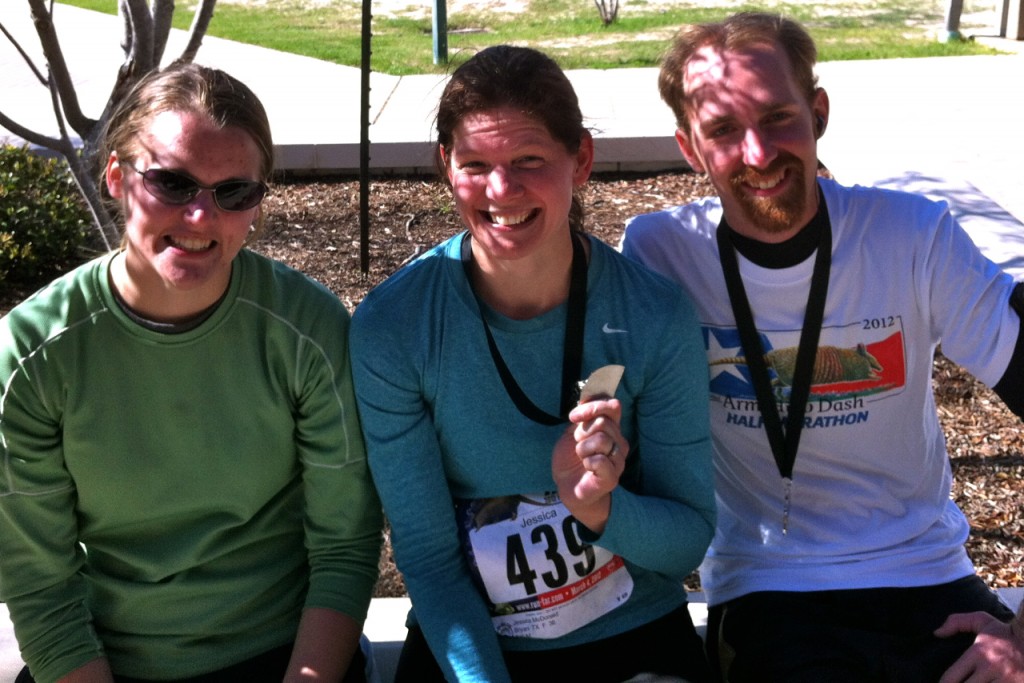 More Jay (she's in the middle: #439)!  More cohorts!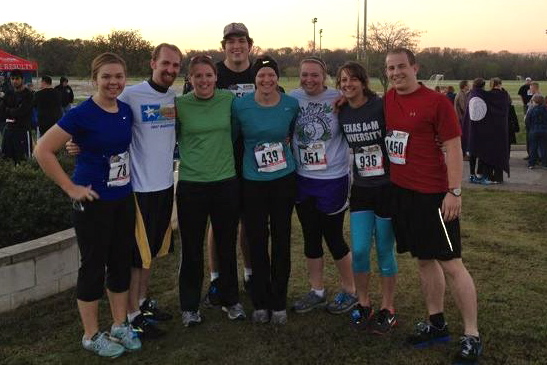 Jay, thanks for allowing me to share your experience here.  I have loved your honesty throughout the process and am thrilled that you accomplished your goal of 13.1 miles.
Congrats, girlie.  YOU DID IT!