It is my happy honor to introduce you to Wendy and her sweet pumpkin: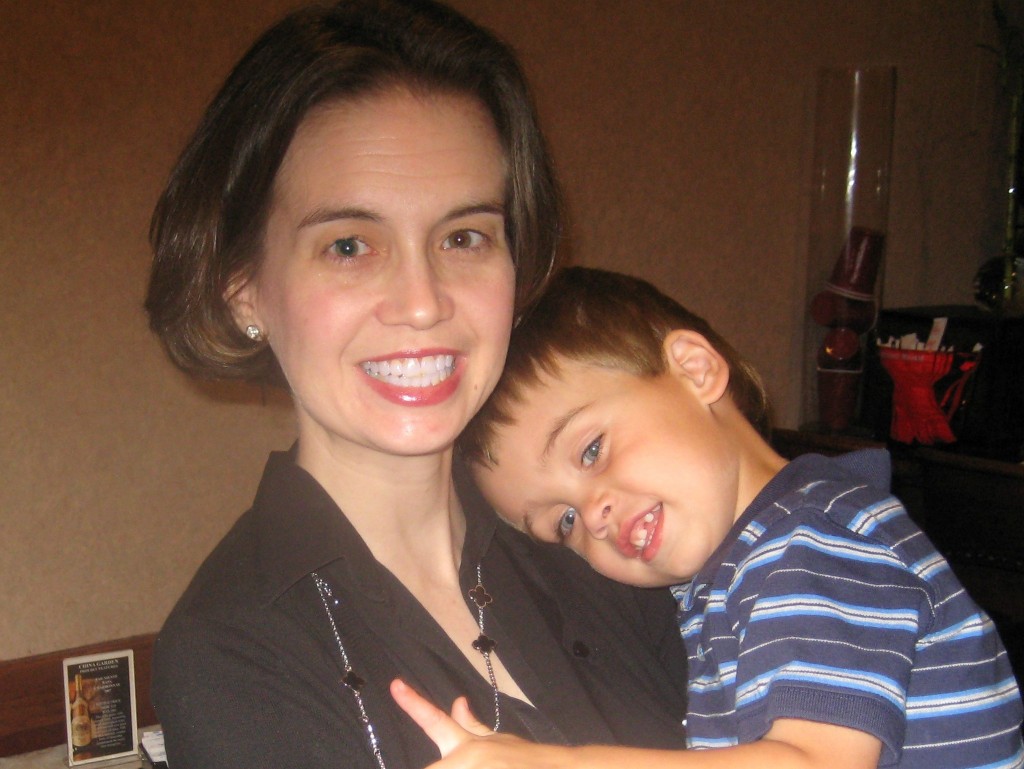 Wendy, or Wendy-Loo as I call her in my head (she's a grown woman and probably wouldn't appreciate my nickname, but she's adorable and in my book that pretty much warrants a "loo"), has graciously agreed to an interview about all things running.
Wendy-Loo rocks!  Plus, she's gonna roll in November's San Antonio Rock and Roll 1/2 Marathon.
I give you Wendy-Loo:
1) What is your motivation to train/run for a half?
Originally it was to get back into a shape that better represented my pre-pregnancy shape, but my love of food tells me that the extra 10 lbs is here to stay. I also think it has helped my motivation to have a goal to reach towards which has allowed me to maintain a better focus on working out on a regular basis.
2) What do you think will be your biggest obstacle as you train?
My biggest obstacle right now is that I have tweaked something in my left leg and running is uncomfortable, which has become very frustrating (am actively seeking a resolution). I am also scared by the actual distance and time it will take to complete. It is easy to run long distances in an area where I know the roads and a lot of neighbors, but I think it will be harder with the uncertainty of a different course. I can currently trash pep talk myself to the next corner, or street end, or whatever…but this will be much harder in a strange place.
3) What is your favorite thing about running?
I love how I feel after a run! When I run in the early morning, I feel like I have an extra spring in my step throughout the remainder of the day.
4) Your least?
I am not a fan of the oppressive heat we have had this past summer. I also feel like I am slow. I have been focusing on increasing my overall speed, but I just feel so slow (and I hate that the neighborhood speed walker blows past me like I am standing still).
5) Secret cheat food.  TELL US!
At least once a week, I get a cookie from Great American Cookie Company (with icing!!!). In the past, I have been known to eat a whole large cookie cake, by myself, in less than a week. My husband has strict orders to not buy a cake again and I let myself indulge with a cookie instead.
6) What's your longest run to date?
7 miles this year (though I have run off and on in the past….but I don't think that counts anymore)
7) As a lifelong runner, I've had many an embarrassing story to share.  Any you'd like to share?
Nothing terrible embarrassing, so far. I usually get dressed in the almost-dark, so at times my wardrobe less than coordinated
8) What is your top psyche-out trick while training/racing to motivate yourself to overcome obstacles?
Not to be a Debbie-downer, but I had a friend fighting a cancer battle and another friend with medically fragile children…..I think of them when I feel ready to walk. With all they have been through/are going through, how hard can it really be for me to go to the end of the street?!?! And, on a lighter note, sometimes a change in tunes can help too.
9) What music do you listen to while running?  Or do you go nekkid?
Must listen to music! Lots of Kelly Clarkson, Pink, and a good bit of *cough, cough* rap/club music
10) Any advice for running newbies?
People say you can't train alone, but it's possible. You may lack the group motivation factor, but with determination, you can do it.
BONUS ROUND!
* What is the one running product you can't live without? 
Good, properly fitted shoes – getting fitted for good shoes stopped a nagging knee and back pain in the beginning.
~~~~~~~~~~~~~~~
Thanks for the fun, girl!  While Wendy is currently nursing a serious injury, like the BOSS she is, she's gonna still show up in November.  We runners are cray-cray like that.
~~~~~~~~~~~~~~~
5ish weeks left to train, mah babies.  Make 'em count.
Here's my latest video update, and no, I'm NOT pregnant!
The mysterious Braunschweiger (Although I never buy this brand.  I buy the fat tubes, yeah buddy):


Oh, nom!