Have y'all met my new pretend BFF, Gaby Dalkin?  No?  Lawsy, that woman can cook.
Check her out: What's Gaby Cooking
As most of you know, she had me at Slutty Brownies (which I have since used to bribe the Time Warner guy to complete the rewiring for my Internets as fast as he could).
If you missed the whole Slutty Brownie post, go HERE.
My latest Gabyfied obsession: Parmesan Roasted Potatoes.
Here's what mine looked like (we were in such a hurry to eat them I just grabbed my saddy sad cell phone camera):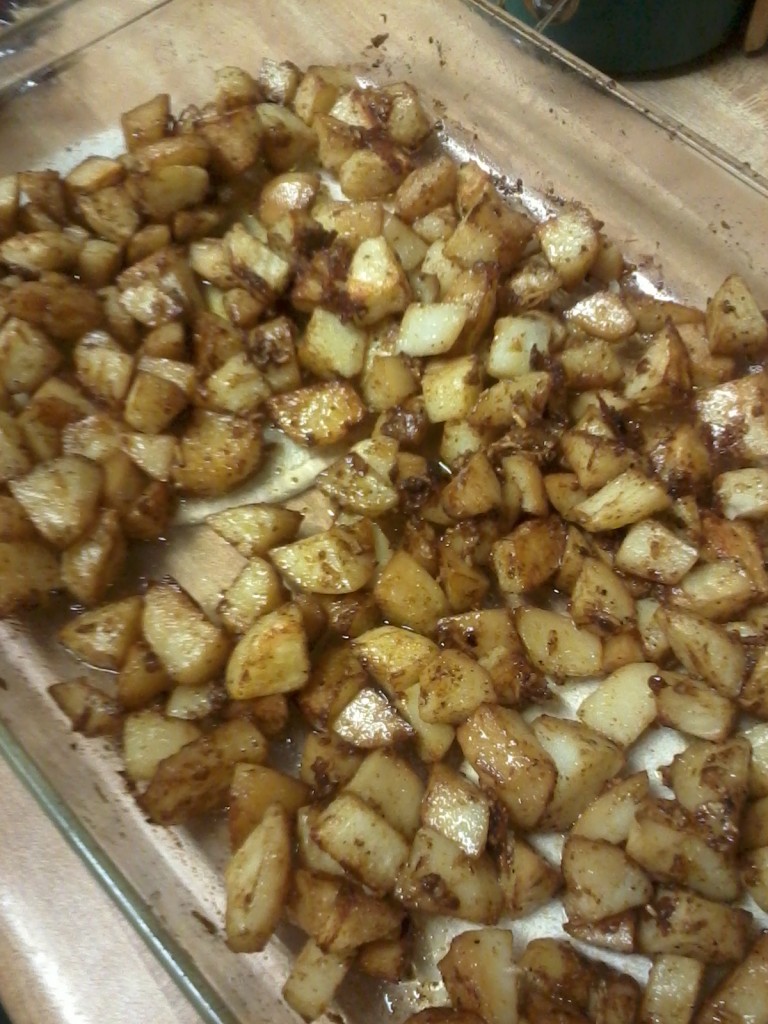 The potatoes are one of the easiest things I've ever made for the gigantic FlAvOr FiEsTa they had in my mouth.
I didn't have quite enough potatoes to double the recipe (does anyone else automatically double every recipe they make?), but I made do, as you can see. I also substituted Asiago cheese for the Parmesan.  Work with what you gots. people!
Let me say this: They are OMGODDNESSGRACIOUSSLAPYOURMOMMA good.
I don't say that lightly.  They are so good that when we had them as leftovers (barely enough to actually qualify as leftovers), Husband wouldn't stop eyeballing the potatoes on my plate after he ate his.
These two recipes are instant family favorites.  Thank you to my new BFF, Gaby, for sharing the love.
From now on, when asked to bring something to a pot luck, I will contribute Parmesan Roasted Potatoes along with Slutty Brownies, so we can all die happy and fulfilled. 
It's OK to go to the light; you've had Slutty Brownies and Parmesan Roasted Potatoes!