The mud run in April is haunting me, mah babies.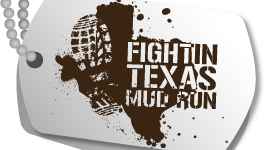 Have I mentioned that I AM A GRANDMAMA?!  Aren't I supposed to be knitting something in a rocking chair while eating applesauce instead of training for crawling under "barbed wire" and literally running through mud holes?!
Psshhh.  I am Grand Mudder, hear me ROAR (in pain from my pulled hammy, no doubt)!
I've decided that in order to survive I need to focus heavily on my core for this adventure, so I made a RV (ridic vid) about it (FOR YOU!):
You can find the exercises mentioned HERE and HERE.
4 weeks, 7 days.  Tick tock clock.  I'm planning on making that run my bitch, yo.
What about you guys?  How do you get ready for tough runs?  Work harder?  Smarter?  Cry in terror?
TELL US!