Oh mah runnin' babies, do I have some fun for you!
You know that mud run I'm participating in and have been yappin' about?  (go HERE for all the details) Sure you do!  Well, come close 'cause I has a surprise for you:  RACE TEXAS gave me an entry to GIVEAWAY to you!  FOR FREEEEE!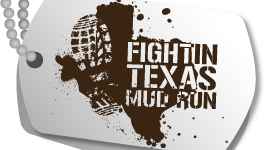 So generous!
Watch this and learn all about it:
How are you eligible to win this giveaway?  Glad you asked!
#1) Leave a comment below telling us if you have ever participated in a mud run.
#2) Become a fan (STALKER!) by Liking my facebook page  (if you are already a fan (STALKER!), skip this step).  Go Like HERE.
#3) LIKE Race Texas on their facebook page. Go Like HERE
BOOM!  Easy cheesy, mud-run peasy.
Contest closes tonight: Tuesday 26th, 2013 at 5pm.   Winner announced tomorrow.
Dem Rulez:
1) Only one entry is allowed.  No purchase necessary to enter or win.
2) I am in no way responsible for whatever happens once you've won/lost or comments disappearing into the ether.  If you win and accidentally knock over a lamp doing a happy dance, Momma is out.  This also applies to your sad if you don't win.  If you not so accidentally throw a lamp in your unhappy, Momma is out.  Basically, I'm not responsible for anything, anywhere, anyhow.  This includes before, during or after the giveaway and race.  Oh, and neither is the Race Texas.  By leaving a comment below, you agree to these terms.  Yeah, you do.
3) The winner will be determined by a number generator.  For those free with the "you're so pretty" and "wow, you're incredibly intelligent" compliments (no matter how true they may be), this tactic will be of no benefit for you here.
Whacha waitin' on….GO!
~~~CONTEST CLOSED!~~~
And the winner is…..picked by random number generator…..EVAN!
Email me at the thepattio@gmail.com for details.
Thanks to all who played!