What a week it has been.  As you read this, I'm probably either running my long run or recuperating from running my long run.
Thank goodness for Dr. Girod and Jonathan (aka SWIRLY!) at Airrosti yesterday for #1) trying like hell to figure out which of my repetitive motions is tweaking my back, #2) putting me through the fix-me-now paces that allowed me to run the streets today and #3) only hurting me enough for one tiny curse word to fly out of my uncouth piehole.
UNCOUTH!
But what of my new kicks you ask?
Well, as you know by now, the wonderful running peeps at Run-On! San Antonio had me come by their amazing store for my first evah running shoe fitting.
This is how it usually goes when I need new running shoes:
*aching feet*
*weeks of aching feet*
*knowing I should buy new shoes, but too busy running*
*pushed to the precipice of injury*
TIME TO GO!
Me to Husband: Time for new shoes!  Let's go to Academy! (Why do I tell him?  Cause it's always time to celebrate when I get new shoes…at least for me.)
Husband: Will you buy me lunch if I tag along?
Me: Sure.
*dodging other customers as I run through Academy in countless pairs of shoes until I find just the right pair*
*lunch*
~aaaaaand scene~
I've been running for over 40 years and I can't remember a time when this method wasn't successful, but friends have been telling me about their fancy shoe-fittings, so I thought I'd give it a whirl, especially since I thought it might help in the injury-prevention arena.
Cue Michele and Mitch Allen of Run-on! San Antonio.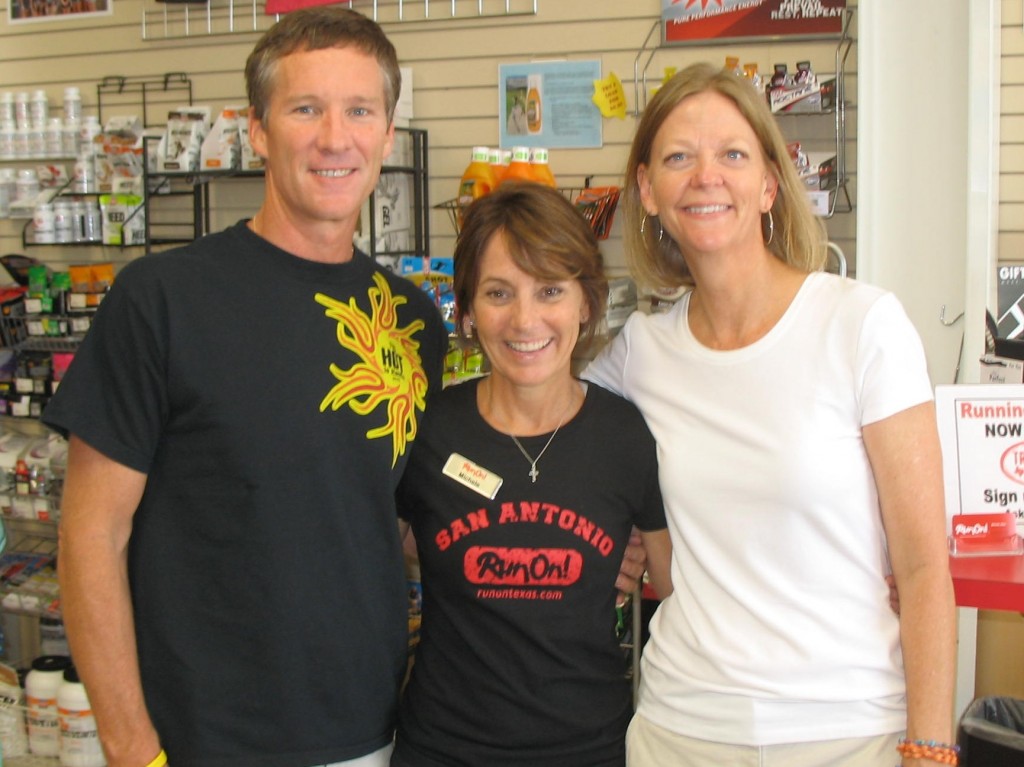 Holla!
Seriously, aren't they adorable?  Me not so much.  I had been running/testing at least three pairs of shoes in the 90° heat.  Pretty (sweaty) Gurl!
Run-on! San Antonio generously fitted and supplied me the shoes I will use for training.  Michele was a pro.  She took my running issues and gait into consideration, brought out shoes that were made for my issues and gait, made me run while she watched (I tried not to flail), until we found a pair that worked.
POW!
Looky (Brooks Ravenna 3's and first pair of women's running shoes I've ever owned):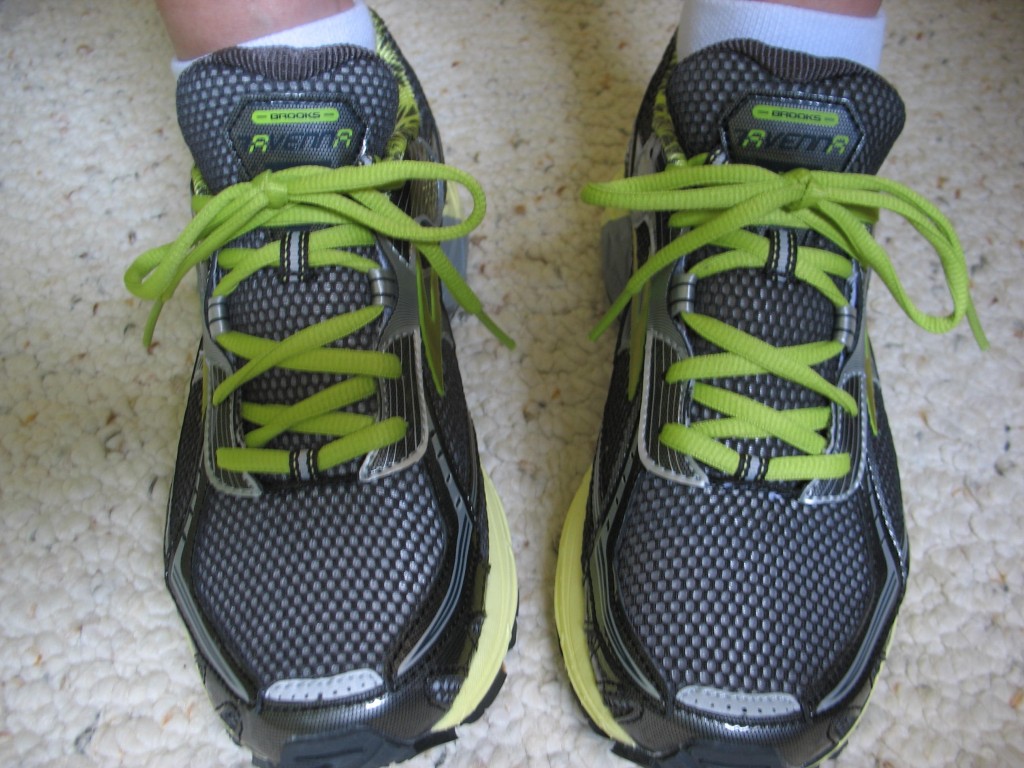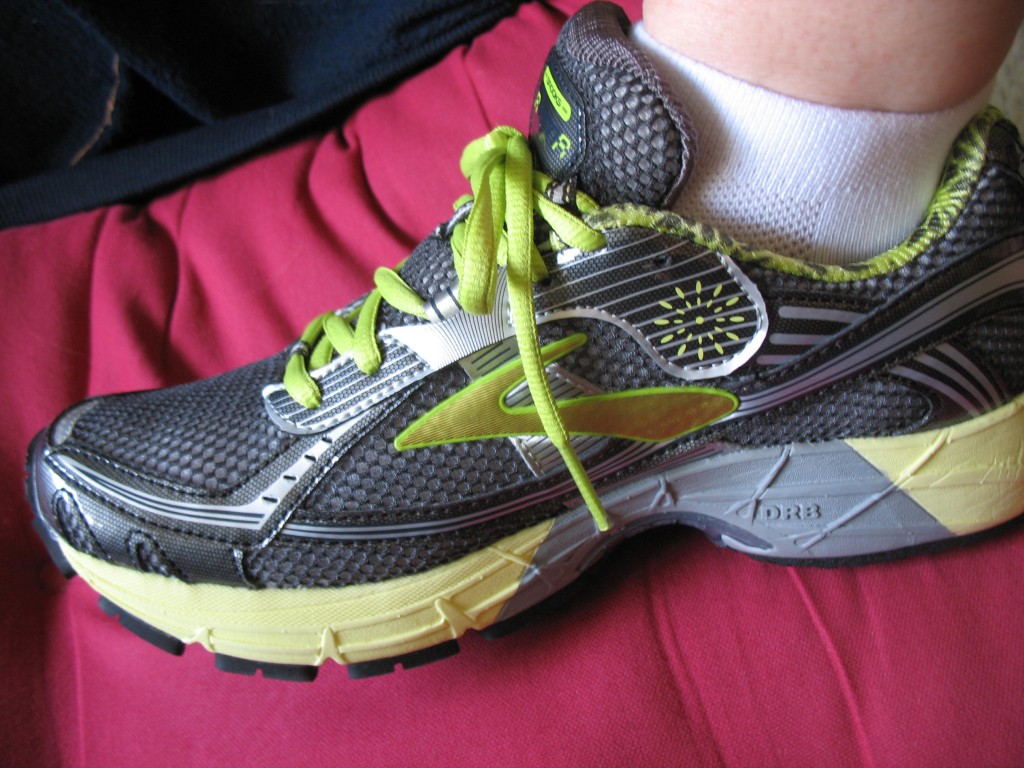 Fancy!
I learned some key things.  #1) I've been doing a great job in fitting myself all these years.  #2) The reason for my success is most likely because I have a "neutral" foot, which isn't very common (anyone surprised I fall in the "unlikely to have" category?  Yeah, me neither.)
I would like to add that I think my obsessive nature in all things to research, probably doesn't hurt either.  I'm one of those individuals that looks at everything as an opportunity to learn.
GOOGLE'D!
Now, if you're not like me and couldn't give a rat's behind about researching your needs or gait or stride or favorite flavor in the Neapolitan ice cream threesome, you, my running friend, would benefit from a fitting.
Check back next week (in the San Antonio Express blog) for a more in-depth post on the fitting.
In the meantime, if you live in San Antonio or the Dallas Metroplex area, check out a Run-On! near you.  If you don't have a Run-On! near you, most larger cities have specialty running stores that could offer a fitting for you.
If you decide to get fitted, come back and tell us about it.  Or if you have already had the joy of a fitting, leave a comment and join the convo.
Happy Running, mah babies!
P.S. Go HERE for some ridiculous after-run videos!